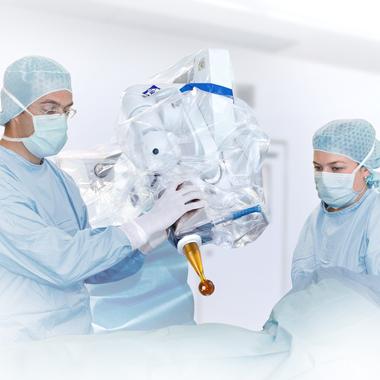 INTRABEAM Drape (Type 90)
Product ID:
326090-0000-000
ZEISS Surgical Drapes
Sterile covers for NC32 INTRABEAM Floor Stand
When it comes to surgical draping, fulfilling your hygiene protocols and protecting the health of your patients and your team is the first priority.
The INTRABEAM Drapes from ZEISS are the optimal solution for an easy, quick and sterile draping process of your NC32 INTRABEAM Floor Stand.
Unhindered manoeuvrability: ZEISS INTRABEAM Drapes enable full movement flexibility when using the NC32 INTRABEAM Floor Stand.
Enhanced Application Safety: ZEISS INTRABEAM Drapes make sure that the surgical sterile environment doesn't get contaminated, especially at the junction between the X-ray source and the selected applicator.
INTRABEAM Drape no 90 - box of 5
Description

Technical Data

Standard Delivery Package

FAQ

Further Information

Standard Delivery